What a weekend.
Cedar Rail, Hosted by the Burgess Family through the NBHA may have became one of my favourite shows of the year. I sit back reminisce and wonder, honestly, what didn't this weekend have?! It had every possible component to make a great time in barrel racer land. I for one was filled with gratitude as I was observing the scenes from Friday to Sunday afternoon in Belleville Ontario. A great facility with great barrel racing to be had! After speaking with Jodi, she said the beginning of each year she starts planning this event with one goal always in mind; how we can make it better than the last. Their goal is that everyone enjoys it and walks away with something. Like a special memory, a personal best, sponsored swag, great awards or if you're lucky, all of the above!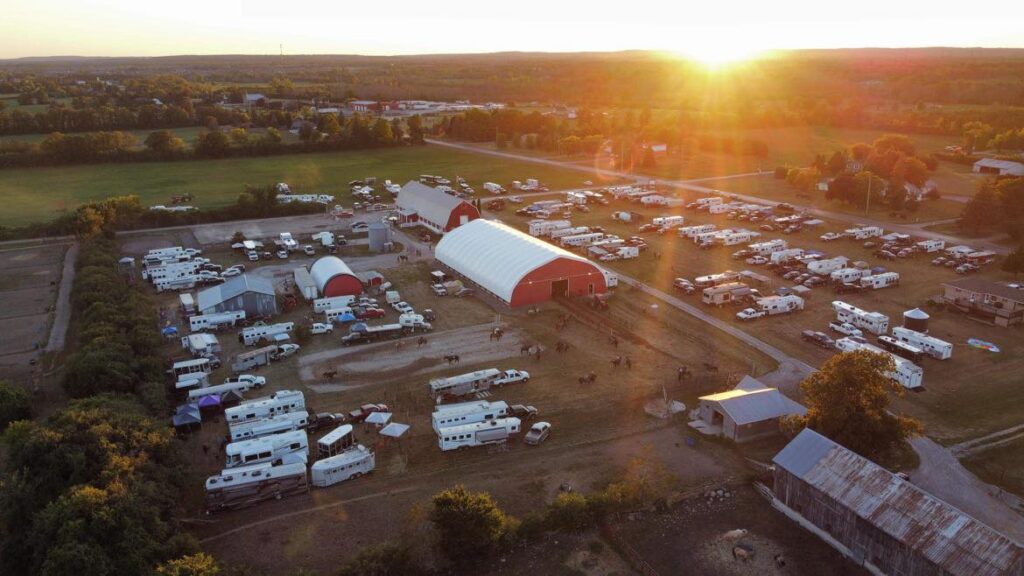 Well, I'll say now, the event really delivered!
One own particular occasion, I was sitting on my horse Saturday night in this lit up coverall arena listening to trivia and horses being auctioned off one by one for the Calcutta. With so many people gathered around doing this thing called "barrel race" almost every weekend in the summer.
As I looked around soaking it up, I told myself "there is a reason we all show up". I could feel the togetherness of the entire weekend and it made for a great one!
Our community is truly amazing. We are all there for the same reasons. We all feel the support from one another, in some way, shape or form. It can be a simple smile, or a "nice run" or something like getting over $100 of Omega Alpha product for being "one out of the money". The sponsors have generously given so much to us riders as a token of appreciation. It's a way to support us, in exchange we support them.
When you see a good run, you have to acknowledge the person and their horse for their victory.
The announcer, Shelley Stephenson was the best combination of punctual, supportive and humorous announcing. The things she'd say as I was tacking up or not even watching would make me laugh. She ran 100s of riders through the arena with the help of the office very efficiently and kept us informed on news we needed to know.
The show ran so smoothly and consistent. It might not have been the fastest going but the later start times, 10 am, gave us a chance to relax and enjoy the moment instead of rushing from day to day. It had a really balanced vibe about it.
The farm is laid out so nicely to host great vendors, a tasty food and ice cream truck and all of us contestants with our outdoor weekend set up. We were camping all close by and nothing felt far away. The smaller arena gave a new set of challenges to the riders to say the least. But to watch in the small space in the corners forced us all to be close. Some would say the arena isn't ideal but that aspect added to the closeness of the community we are apart of.
Back to Saturday night lights in the arena. There are a few highlights I love that I want to share!
I was 24 in the futurity and with some mic issues, the warm up lasted a while. Once I was auctioned off, I went back to the trailer to wait. The runs started and I could hear the crowd get louder for each passing barrel. Kayla Ward was one of the first to go up the alley and I heard the roar as she crossed the timer to a 14.6! "Ouuu this is going to be a tough futurity" I thought. As I made my way to the arena to start getting ready, I was hearing some disappointing knocks through the thin walls, unable to see the actions, I could only assume what was going on in there.
Run after run, I went up to Kayla on her horse and she was saying how she might win her first futurity of the year. The race wasn't over yet however; and we all know anything can happen. The whole race, no one got close to her time! Chris Blane with a 15.0 took second and Jeffrey Forestell with a much improved 15.1 took third. Redeeming himself from his earlier run on cricket clocking what, a 17 second pattern? I'd say, way to step up!
Different people will give you different answers to how the futurity went, but if you ask me, Jeff or Kayla, we would all say it went pretty good!
Kayla and Jeff continued on their good runs both getting in the top for Sunday's round and averaging out with the 1D champ and reserve champ. Earning themselves some nice awards from The Red Running Horse & Omega Alpha. You guys shined and I am so happy for you both!!
Kayla Ward & Jeffrey Forestell
My next favourite moment is actually an incredible woman named Donna Whiticar. She is always such delight. I don't get to see her often as she is in the east and I am in the south western area past Toronto. But she can inspire anyone! At her age of 76 years young, she pole bended and barrel raced on her horse, Crocodile Dundee who is 19. They make quite the pair and this woman, I tell you. She took a spill in pole bending Sunday morning to then ran a 15.3 in barrels that afternoon. What a woman! We said she didn't even smear her lipstick. She is truly amazing.
Saturday morning me and Donna shared stories in the stands, why it's called stands I'll never know when what you sit on them.. Anyways. She told me the show shirt she was wearing was Kathy Richards, who passed away over 5 years ago. Kathy was on my mind earlier when Jeff Burgees shared a video on Facebook of him running White Hot Teller, Kathys horse. Well Donna told me some of her stories about Kathy and their close relationship while Leslie and Jessica were growing up. It was really special to hear other sides and experiences from those who greatly impact our riding community. Leslie for an example, as the trainer and jockey she is, was inches from to breaking her own arena record this weekend on the 5 year old Derby horse, Ze Sweetest Fling. Running a 13.960 where the record is still held by her and Down Right Bully with a strong 13.928.
Its the moments like this that make me realize we aren't just barrel racing in the weekends, we are creating memories, we are sharing ourselves to others through support, stories, encouragement, true friendship.. the list goes on. We all have ways we let people know we are there for them. This weekend I felt it a lot. We were in barrels racer land being more than just barrel racers. It was truly a great weekend with some amazing run and some great memories made.
Thank you again to the Burgess family and everyone involved in creating a great event for all of us to enjoy.